I may be getting my sanity back soon
31 Thursday May 2012
Written by Sara Winters in Blog
I'll have to check with my muse, but I might be getting my sanity back sometime soon. (Or, some of it, anyway. I don't think I'll ever get it all back.) The extended version of my short story, Starting Over, is finally finished. Again. Probably. Hopefully. Waiting to hear back from someone (and debating asking three more people to read it), but I think I've done it! Of course, I'm still high from the adrenaline rush from finishing yesterday, so I might go back and rewrite the last ten pages again in a fit of panic. Or not, if I can talk myself out of it.
Hopefully, it'll be out sometime in the next couple of weeks. I'm also trying to come up with a different title (since it is a very different story) and trying to work out the kinks in the book cover design. It'll come along, I'm sure.
In other exciting news, I did finish my cover for See Right Through. Isn't he beautiful?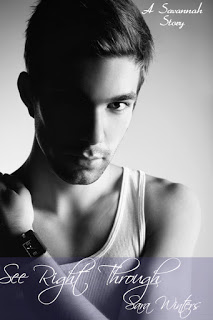 I can't wait until the story is posted at Goodreads. Only [censored] more days!